Infertility is really, really hard. It's harder than I've ever even admitted to myself. It's also deeply personal. Reminders of your infertility are everywhere. I'm not just talking about all of the babies at the employee picnic or the pregnant women at the grocery store or the mailbox full of baby announcements and shower invitations. I'm talking about insidious little reminders like this ad that Aldi posted on Twitter.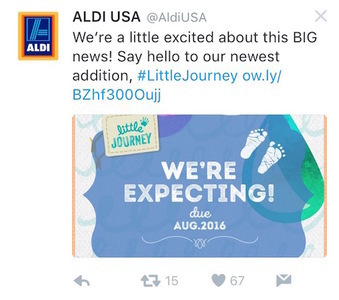 "Dear Aldi, you are opening a giant, fluorescently lit discount grocery store. You are not having a baby," is what I was thinking when I read this tweet. After clicking the link, it turns out that Aldi is starting to carry a line of baby products so I can see how the people in charge of marketing would think this advertisement is clever. Even so, it still feels a little like- "oh, even a grocery store can have a baby… but not me!"
Infertility affects millions of women— over 6 million in the United States alone. It is so common that I'm sure you know at least one person affected by it. Yet as common as it is, people still say the strangest things when they find out you are struggling to conceive. So if you would like to be a more sensitive person to those you know (or may not even realize you know) that are dealing with fertility issues, here are some things not to say.